Introduction
Our Process
Portfolio
Cabinet Sales
Testimonials
Contact Information
Useful Links
Sharon Hopkins, CKD, CBD, CID
KITCHEN / BATH / HOME REMODELNG DESIGNER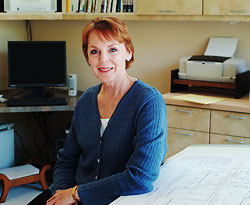 Sharon is a national award winning, independent, Certified Kitchen, Bath and Interior Designer. She has worked in, studied, and taught residential design and construction in the San Francisco Bay area for more than 25 years. While specializing in kitchens and baths, she also designs complete home renovations and room additions. She has worked as a designer and sales representative for national cabinet manufacturures. She approaches her designs with adept versatility and enthusiasm, tackling almost any residential design problem for homeowners, contractors, showrooms and herself. Also a credentialed teacher, Sharon instructs kitchen and bath design classes offered at Acalanes School.
Professional Designations:

Certfied Kitchen Designer (CKD), National Kitchen and Bath Designer
Certfied Bath Designer (CBD), National Kitchen and Bath Designer
Certfied Interior Designer (CID), National Kitchen and Bath Designer

Professional Association Memberships:

National Kitchen and Bath Association - Societies
California Council for Interior Design
Member of the Board (past), Northern California Chapter of National Kitchen and Bath Association

Professional Design Awards:

National Design Competition Judge, National Kitchen & Bath Association for 2000, 2001
2nd place, National Award for Residential Bath Design, National Kitchen & Bath Association
2nd place, National Award for Residential Bath Design, National Kitchen & Bath Association
How I Work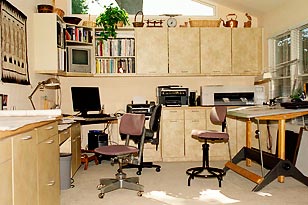 AN INITIAL MEETING with prospective clients is complimentary. I am very interested in talking with you about your remodeling ideas, your family lifestyle, and long term goals for your family and home. I prefer to meet with everyone making decisions concerning remodeling or construction designs. I bring my portfolio and a DesignPro booklet containing useful consumer information, including survey forms for you to complete. I supply copies of my contract, resume, client referrals, professional referrals, and addresses of recent completed projects.
DESIGNING BEGINS with careful measuring that may take an hour or more depending on the scope of work. We review your survey forms, remodeling goals and wish list. The next appointment is then scheduled for reviewing several different computer printed design layouts, perspectives and overviews.
INITIAL LAYOUTS are presented that stimulate discussion. Listening to your feedback helps to define the final layout. All initial designs are left with you to consider. When you are ready to make changes to one of the layouts we meet again. Changes are made to the layout and when you are satified I prepare the revised plan for your approval with detailed cabinetry, appliances, lighting and electrical needs.
FINAL PLANS are prepared for contractor bids and building permits. They contain existing and remodeled floor plans, elevations, material specifications, building codes, construction details and engineering if needed.
Portfolio of DESIGNPRO Projects
The portfolio is being updated. Please return soon.
Cabinet Sales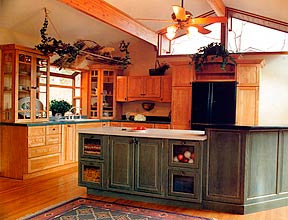 DESIGNPRO is a dealer without showroom overhead and sales people. You may purchase beautiful custom cabinets manufactured by CRYSTAL CABINET WORKS through DESIGNPRO at favorable consumer prices. DESIGNPRO's personal service, attention to detail, and close relationships with these manufacturers produce satisfied customers. These cabinet manufacturers offers exceptional quality and custom flexibility allowing Designers to create one-of-a-kind cabinetry that perfectly fits your plan and style. Only the finest quality woods, stains, paints, fittings, fixtures and accessories are used in manufacturing.
CRYSTAL CABINET WORKS is a leading manufacturer of the Finest American made for kitchens, bathrooms and other rooms in your home. Since 1947, CRYSTAL CABINET WORKS has been a family-owned, custom cabinet manufacturer located in central Minnesota.
Please visit crystalcabinets.com.
Testimonials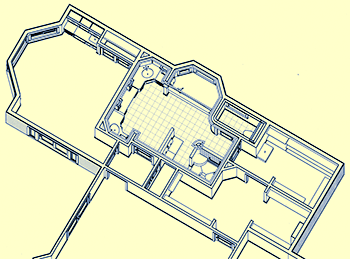 "It has taken me awhile and some experience to truly appreciate your design genius. When I reach for my cutting board and it is so handy, when I empty the dishwasher and everything has a place, when I need to take out my George Foreman Grill and the drawer glides out and my back does not break, I am filled with appreciation. And I love looking out my kitchen window that is home to some very happy orchids!
"But I thank you most when our friends are sitting at the counter and Roc and I are putting the finishing touches on dinner and we are all laughing and enjoying the new comfort of our space. And don't get me started on the laundry room! We are the envy of all who see it.
"So many small things added up to a wonderful design and I hope I have the opportunity to give you many referrals in the future. You were a pleasure to work with, extremely generous with your time and a great hand holder for someone as anxious as me. We are so glad we found you! "
- Many many thanks,
Client from Walnut Creek, CA
"The interactive design process resulted in a plan that met our needs exactly, but we could not have come up with that design on our own. The attention to detail minimized changes made during the construction and that translated to significant savings in the construction."
- R.W. B., Lafayette, CA
"Sharon's designs are unique and definitely have the 'wow' factor. We were completely delighted with the plans she came up with for our bathroom remodel and our kitchen addition. It is amazing how Sharon can envision a completely different room and create the plans to put her ideas into place. Our bathroom's new layout uses the existing square footage much more efficiently and it is a joy to see how beautiful it turned out. Our kitchen addition completely changed our home by adding light, dimension and graceful lines. We now have an unbelievably gorgeous kitchen that is a cook's dream. Sharon's layout for our kitchen is well thought out and makes cooking easy. Sharon was able to design our cabinets to fit our needs and took special care to get the finish and details just right. We couldn't be happier with the results."
- P.B., Walnut Creek, CA
Contact DESIGNPRO
Contact DESIGNPRO by the following means:
Studio Phone: 925-935-3701
Mobile Phone: 925-270-8223
E-mail: designpro7555@gmail.com
Mail: DESIGNPRO, P. O. Box 846, Lafayete, CA 94549
Useful Links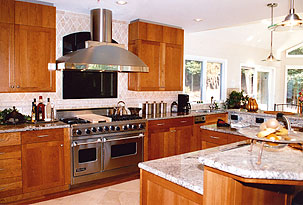 Below are links to the professional organizations, cabinet manufacturer and design tools which are esssential to provide my clients with the very best design results.
www.nkba.org
National Kitchen and Bath Association — Certified Kitchen and Bath Designer # 801662
www.ccidc.org
California Council for Interior Design Certification — Certification #1115.
www.chiefarchitect.com
Chief Architect — Powerful and versatile CAD designing and drafting program.